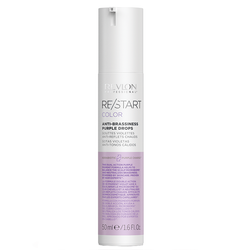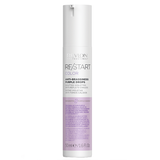 RESTART COLOR - Anti Brassiness Purple Drops
The Dream Drops for anyone who's hair is plagued with Brassiness but main concern is their hair health.
Now you don't have to choose, pick your Shampoo & Conditioner to suit your hair type then add your drops to make any shampoo or conditioner purple helping to fight that brass.
The advantage of these drops is that you can choose the intensity you want and they will not dry out your hair like conventional anti-yellow tint products.
How To Use 
Start by adding one drop to your product check the results and if you want a stronger result the next time add a little more, use once a fortnight in your Shampoo or Conditioner 
Advantages
Antioxidant
uniform colour result
Anti-yellow tint
eliminates yellowish and copper color pigments
Colour protection
does not dry out the hair.
Protection against external damage with immediate effect
Strengthening of the hair structure
Extra moisture
Dermatologically tested
double-acting hair and scalp system
long-lasting brilliant colour
reduces porosity of the hair
concentrated purple pigment for all blonde tones