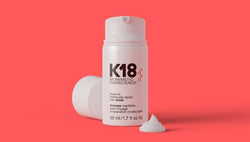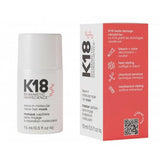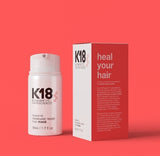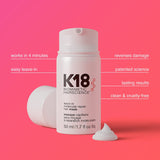 K18
4-minute leave-in treatment to clinically reverse hair damage
An at-home leave-in treatment infused with our patented K18Peptide™ that works to repair even the most extreme damage, renewing hair to its most youthful, healthy state.
how to use
 IN the shower
Shampoo, do not condition.
OUT of the shower
Towel dry thoroughly.

Begin with 1 pump of the K18 Mask and add more as needed depending on the length, thickness, and condition.

Work evenly into hair from ends to roots, one pump at a time.

Let sit for 4 minutes to activate.

Do NOT rinse out.

Style as usual.
do's + don'ts
DO use a clarifying shampoo if you're a heavy product or dry shampoo user to remove buildup and help our peptide penetrate and get where it needs to go.
DO wait the full 4 minutes before styling or applying other product
DO use every 4-6 shampoos consecutively to see and feel ongoing results
DON'T condition your hair before application (trust us, most won't need it after K18, if you still need, add a leave-in after the 4-minute window is up post-application)
DON'T overuse, a little goes a long way.
DON'T rinse out. This is a leave-in, so you know, leave it in!